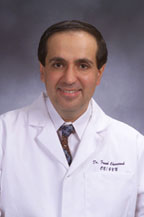 Welcome to the Department of Obstetrics and Gynecology at Weill Cornell Medical College and NewYork-Presbyterian Hospital. The department has a long tradition of providing excellence in obstetrical and gynecological care to its patients and their families, as well as in teaching and research. Our multidisciplinary team of healthcare professionals is dedicated to meeting the unique and changing medical needs of women, helping them to maintain and improve their health through annual checkups, screening programs, general obstetrical care and specialty care, while advancing and teaching the knowledge and skills of obstetrics and gynecology to our students and residents.
Our team of diverse and talented doctors all aim to provide comprehensive patient care in the following areas:
All our facilities provide a superb location for clinical care and education and are dedicated to obstetric (including high risk), gynecologic (including minimally invasive surgery) and gynecological oncology care.
Beyond excellence in patient care, the department also represents the highest standards of academic medical training available anywhere in the world - from the undergraduate level to a broad-based residency program. We offer approved fellowships leading to subspecialty certification in the growing fields of Maternal-Fetal Medicine, Gynecologic Oncology and Reproductive Endocrinology and Infertility.
Through laboratory research and extensive clinical trials, the research scientists at Weill Cornell Medical College are advancing the ability of our specialists to deliver ever more positive outcomes for their patients – not only at our facilities here in New York, but around the nation and the world. It is this combined dedication to breakthrough discovery, advanced training and excellence in patient care that gives our Obstetrics and Gynecology department its reputation as a provider of leading edge women's healthcare.
I hope that our web site will provide you with the opportunity to learn more about our department's faculty, specialties and clinical programs, education programs and research. I encourage you to contact us with any questions you might have regarding the spectrum of services we provide.
Sincerely, and to your good health,
Frank A. Chervenak, MD
Given Foundation Professor and Chairman
Obstetrician and Gynecologist In-Chief
Department of Obstetrics and Gynecology